Litmus Automation
Newsroom
About Litmus Automation
Litmus Automation bridges the gap between data in the field or factory and business applications for companies looking to implement Industrial Internet of Things (IIoT) solutions. Litmus Automation's offerings, LoopEdge and Loop, work seamlessly together to allow companies to access and exploit data previously trapped inside enterprise hardware, no matter where or when it was deployed. Working with original equipment manufacturers and other industrial companies, Litmus Automation's proven IIoT solutions offer data and device management so companies can optimize both how they run their business and how their customers' businesses operate.  Litmus Automation customers include 10+ Fortune 500 Manufacturing companies, while partners like HPE, Intel and SNC Lavalin expand the Company's path to market.
Software Products
LoopCloud, LoopEdge
Headquarters
USA: 2107 N 1st St. Suite #440, San Jose, CA, USA, 95131
Canada: 141 Bathurst St. Suite 201, Toronto, ON, Canada, M5V 2R2
Japan: Level 18, Yebisu Garden Place Tower 4-20-3 Yebisu, Shibuya ku, Tokyo 150-6018
Key Leadership
Vatsal Shah, CEO
John Younes, COO
Sacha Sawaya, CFO
Headlines, Articles & Blogs
Published articles by Litmus Automation and partners.
RT Insights Article: How to Create a Scalable IoT Edge Computing Project by John Younes https://www.rtinsights.com/how-to-create-a-scalable-iot-edge-computing-project/
Media Outlet: Daily Automotive News Type: Newspaper Headline: Interview with Vatsal Shah, CEO of Litmus Automation, Provider of cloud platform 'Loop' for connected cars Country: Japan Date: 30 January, 2017 Circulation: 125,000 Frequency: Daily Media Relations...
Press Releases & Past Events
Follow our interactive timeline to see a history of our internal press releases, as well as recognition from our industry partners.
Litmus Automation Featured in 451 Research Impact Report 451 Research covers the technologies required to enable the virtualization of the physical world and the new avenues of enterprise value creation made possible by turning IoT data into actionable business...
Loop product information
Request our Loop product sheet download by providing the following information.
The Loop product sheet will arrive to you via email.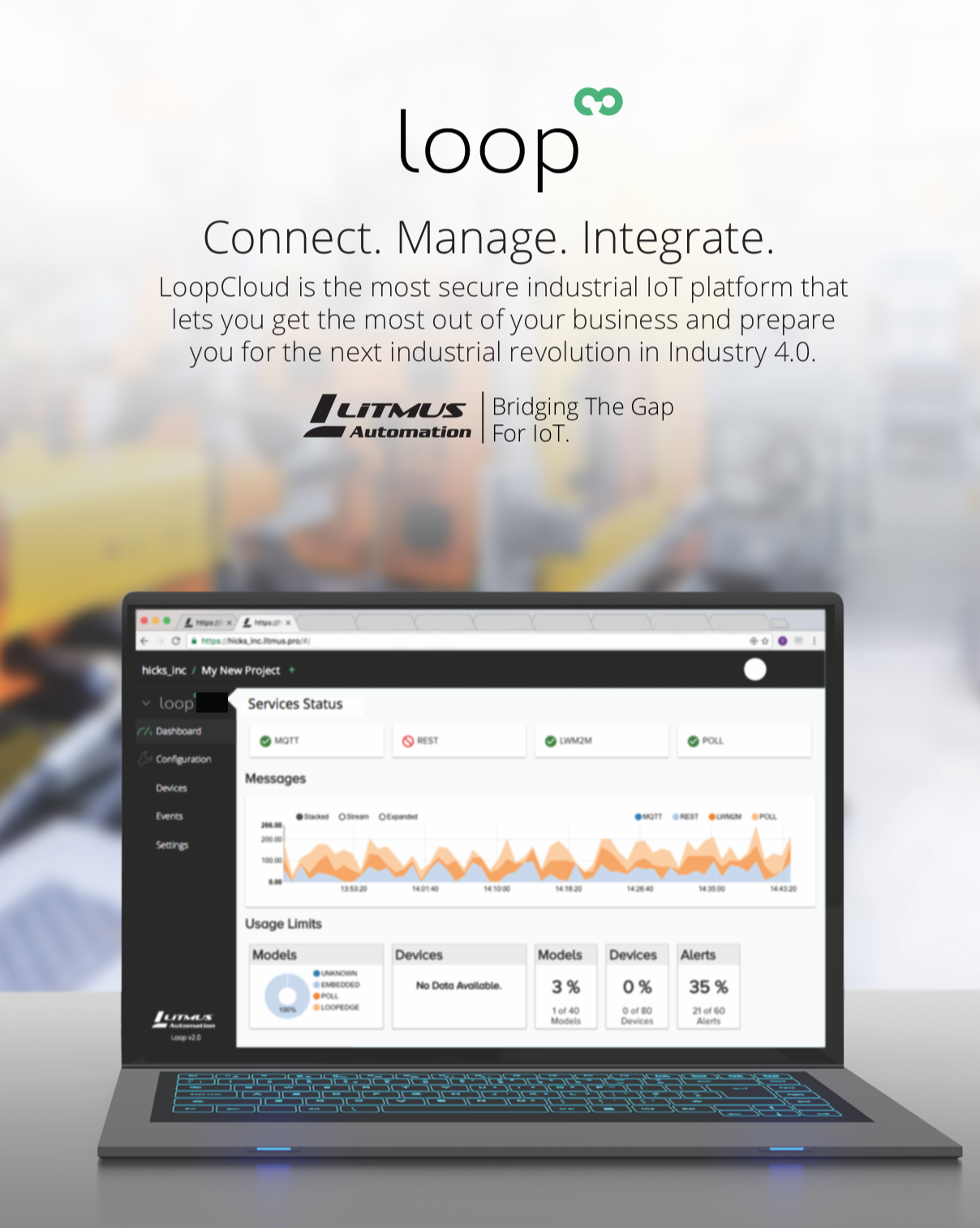 Litmus Automation, Inc | Copyright 2019 | All Rights Reserved